Philemon received a letter from the Apostle Paul asking him for a favor.  That favor may have been to release his slave, Onesimus, or perhaps at least to send him to Paul as a companion.  We don't learn much about slavery from the book, even though we'd like to.  But we do learn at least eight other things.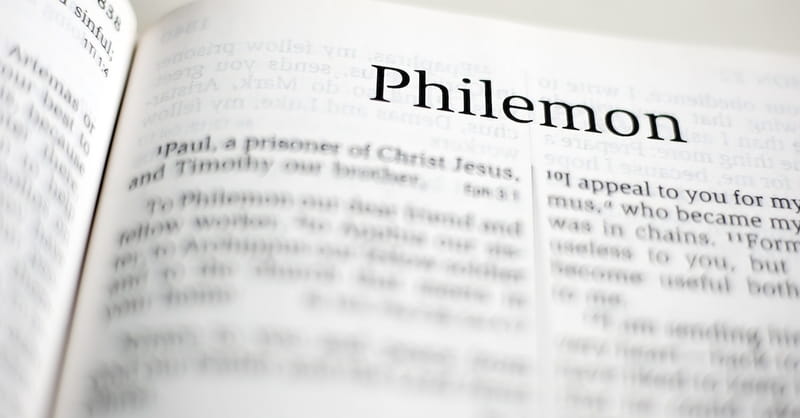 Churches in the first century were small
The early church grew from small bands of committed people working hard together.
The idea you need a megachurch to thrive is a very new concept rooted production-consumption expectations of goods and services.   The micro-church is also thriving today and always has.  It's a church where everybody knows your name.  Unfortunately you can't hide.  It requires commitment.  With so few people, you are probably going to be asked to do something.
Love and Faith result in thanksgiving
When evaluating a person or a group of people, their take-home-pay, their many qualifications, and their busy schedule don't count for much.  The measure of a person is how committed their heart is to God and their neighbour.  Their faithfulness to their beliefs and to their relationships shows how good a person is – not what car they drive.
If we have friends and family who love well and are full of faith, it would be good to thank God for bringing them into our lives.  An encouraging card in the mail wouldn't go amiss either.
Growth means more knowledge
If we want to grow, increase what we know.  A rebellion against stuffy know-it-alls reading the Bible has led to mindless know-nothings filling the pews.  Stupidity is not a virtue.  C.S. Lewis once said, "God wants a child's heart, but he wants an adult's mind."
We spend time investing in education for our careers, but we don't invest as much rigour into the education of our spirits.  It might be good to spend a year or two studying at somewhere like Moody Bible Institute to gain a grounding in the Bible.  How valuable is education in the Bible, in the Spirit, to us?  Does our Bible education dig as deep as our professional education?
Appeals are better made in love rather than authority
Pulling rank emphasizes a power differential.  People don't really like to be reminded of being lower in a hierarchy.  It leads to resentment.  The better way is to show a subordinate how we care for them and the organization we both serve.  We can show them how they will benefit from the proposed action and how others will flourish.
God can allow negative circumstances for good ends
Negative circumstances, even things that are clearly evil, can be reframed as forming events.  God can allow a series of events to transpire that don't make sense at the time.  In retrospect all the events fit together like a jigsaw to create a complete picture.
I have had athletes who suffer injuries tell me that without their injury their lives would be consumed with sports.  Although the sports injury is not a good thing, the resulting redirection was worth it in their opinion.
Christians' relationship as brothers and sisters trumps social hierarchy
Churches should be full of bankers, beauty queens and the homeless all equally cared for and living together.  Unfortunately, segregation still occurs on Sunday morning.  Class distinctions in neighborhoods often result in class distinctions between local churches.  Although the issues are complicated, all people are equal at the foot of the cross.  God shows no favoritism and neither should we.
Christians can be confident in the character of other Christians
This should be true – unfortunately recent years of scandal among Christian leaders has made us less confident.  Christian leadership is not about power and control, it is about servanthood.  It is not about the exploitation of the weak but their strengthening.  People who are fighting to serve each other should be able to trust one another.
Confidence in the character of Christians should be higher than confidence in the character of the local Mafia.  However, the Mafia have a code they live and die by and Christians have a code they often ignore.  We were saved by God in order to be better people.  Time to embrace change.
Churches practiced open hospitality
In England, my friends and relatives might drop in at any time for a cup of tea.  In America a visit has to make it on the sacrosanct schedule – anything else is an intrusion on privacy.  There at least has to be a phone call before ringing on the doorbell, to make sure the visit is convenient.  Preferably visits are arranged weeks in advance to make sure no-one is a loser with an open schedule.
In ancient times, when prior communication was limited, people practiced hospitality more spontaneously.  They lived life in constant expectation of visitors and tried to outdo each other in their welcome.  This is a challenge to our modern disposition.  I would not say it is a biblical imperative but simply a challenge to our individualistic and private mindset.
***
Philemon
Paul, a prisoner of Christ Jesus, and Timothy our brother,
To Philemon our dear friend and fellow worker— also to Apphia our sister and Archippus our fellow soldier—and to the church that meets in your home:
Grace and peace to you from God our Father and the Lord Jesus Christ.
I always thank my God as I remember you in my prayers, because I hear about your love for all his holy people and your faith in the Lord Jesus. I pray that your partnership with us in the faith may be effective in deepening your understanding of every good thing we share for the sake of Christ. Your love has given me great joy and encouragement, because you, brother, have refreshed the hearts of the Lord's people.
Therefore, although in Christ I could be bold and order you to do what you ought to do, yet I prefer to appeal to you on the basis of love. It is as none other than Paul—an old man and now also a prisoner of Christ Jesus— that I appeal to you for my son Onesimus, who became my son while I was in chains. Formerly he was useless to you, but now he has become useful both to you and to me.
I am sending him—who is my very heart—back to you. I would have liked to keep him with me so that he could take your place in helping me while I am in chains for the gospel. But I did not want to do anything without your consent, so that any favor you do would not seem forced but would be voluntary. Perhaps the reason he was separated from you for a little while was that you might have him back forever— no longer as a slave, but better than a slave, as a dear brother. He is very dear to me but even dearer to you, both as a fellow man and as a brother in the Lord.
So if you consider me a partner, welcome him as you would welcome me. If he has done you any wrong or owes you anything, charge it to me. I, Paul, am writing this with my own hand. I will pay it back—not to mention that you owe me your very self. I do wish, brother, that I may have some benefit from you in the Lord; refresh my heart in Christ. Confident of your obedience, I write to you, knowing that you will do even more than I ask.
And one thing more: Prepare a guest room for me, because I hope to berestored to you in answer to your prayers.
Epaphras, my fellow prisoner in Christ Jesus, sends you greetings. And so do Mark, Aristarchus, Demas and Luke, my fellow workers.
The grace of the Lord Jesus Christ be with your spirit.