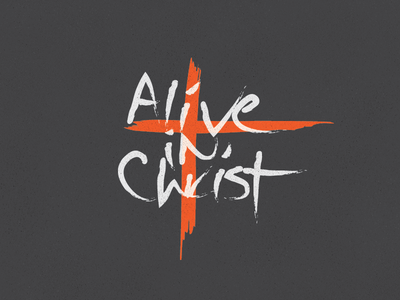 If we claim to be a Christian, we claim to be 'in Christ.'  Our roots are in Christ and so we are built up and strengthened by him.  Jesus called us to be branches abiding in the vine – He is the vine and we are the branches.  People try to pull us out – isolate us.  Break us.  It used to happen particularly in colleges or universities.  A Christian disciple would meet all kinds of new ideas, and one idea or another would take them captive.  It didn't have to be a new religion, it could just be the lust of a new romance, the promise of financial success, or the supposed wisdom of recent 'thinkers.'   Now students have access to ideas from all over the globe from a very young age.  It's hard to keep the faith – but those who are truly in Christ can develop resilience.
It is important to be strong and to be unafraid in the face of religious pluralism and postmodern ideas.  If Christianity is true, though, there are a number of things available 'in Christ' that are available nowhere else.
All the fullness of God is in Christ
God has made known to us His own nature.  There is nothing about God that can be known to us apart from Christ.  There is nothing about God that can not be known or experienced in Christ.  Because of this Christ is the center of our worship; He is our first love because there is no higher focus a person can have.
We are made full/complete in Christ
The aim of mankind's development is in unity with another.  We have the fullness of God available to us in our intimate relationship with Christ.  Being inseparable from Jesus conforms us to him.  Moving around in His complete being completes us.
We are set apart as God's people in Christ
Not everyone is in Christ.  Being in Christ makes a people distinct.  Just as Israel was marked as the distinct people of God by their circumcision, so Christ followers are marked by Jesus.  Jesus' act of sacrifice on the cross allows his followers to be God's people.
We are made alive in Christ
A new life becomes available to Christians.  However, this new life is in unity with Jesus.  A true self, previously unattainable, is the most Christ-like self.  We live a new life as the image of Jesus to our world.  We do what Jesus would do and we say what Jesus would say.  It is not a religion of works, as if we are trying to prove something to Jesus.  It is a faith where Jesus ministers to the world through his disciples in every age.
'In Christ' makes Christianity better than …
Because of the supremacy of Christ – because of his unity with his followers – Christianity is superior to other philosophical, political and religious systems.  Other systems do not know Jesus or are not centered on Jesus.  Because Jesus is superior, a way of life 'in Jesus' is superior.  This does not lead to pride because the believer in Jesus does not bring anything to Jesus he does not have in himself.  Jesus brings to the relationship everything lacking in the disciple.
***
John Piper has written about six things being in Christ means for the believer.  He draws mainly from passages other than Colossians.  The four facts listed above were all taken from Colossians 2:6-15.
Colossians 2:6-15
So then, just as you received Christ Jesus as Lord, continue to live your lives in him, rooted and built up in him, strengthened in the faith as you were taught, and overflowing with thankfulness.
See to it that no one takes you captive through hollow and deceptive philosophy,which depends on human tradition and the elemental spiritual forces of this world rather than on Christ.
For in Christ all the fullness of the Deity lives in bodily form, and in Christ you have been brought to fullness. He is the head over every power and authority. In him you were also circumcised with a circumcision not performed by human hands. Your whole self ruled by the flesh was put off when you were circumcised by Christ, having been buried with him in baptism, in which you were also raised with him through your faith in the working of God, who raised him from the dead.
When you were dead in your sins and in the uncircumcision of your flesh, God made you alive with Christ. He forgave us all our sins, having canceled the charge of our legal indebtedness, which stood against us and condemned us; he has taken it away, nailing it to the cross. And having disarmed the powers and authorities, he made a public spectacle of them, triumphing over them by the cross.