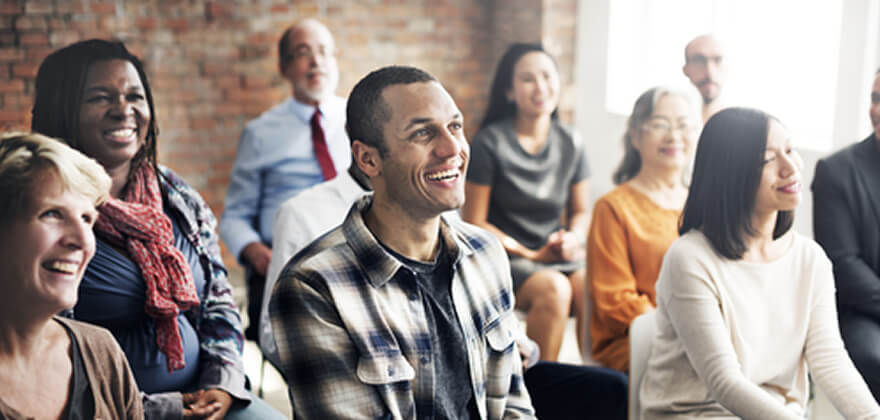 To be in a healthy church is a blessing.  Beyond personal tastes in musical styles or forms of preaching, there are some qualities which are a bedrock of church health.  Here are four qualities to be thankful for, if you have them in abundance in your church.  Are you part of building a church that looks like this?
Churches are essentially a meeting of the faithful.  Faith goes beyond mere belief.  Belief is generally understood as intellectual assent to some statement or other.  James states, in his biblical book, that The Devil and his demons believe the truths of the Bible and shudder.  Obviously, their belief does not qualify as true faith.  True faith results in action.  True faith acts in accordance with what is believed.  James makes this point clear in his book also.
A church with faith is faithful in its weekly gatherings, it is faithful to its members, it is faithful in its service in the community.  This goes beyond a robust statement of faith left unseen on a website somewhere.  The statement of faith is regularly evaluated to see if it shows up in action, and it is a guide for all that is done.
A misunderstanding of love has led many churches into trouble.  Love has been downgraded in the last century to a positive emotion.  It is now often confused with lust or infatuation.  Because the emotions ebb and flow, love has become unstable and so it ceases to provide security.
An enduring understanding of love needs rediscovering.  An enduring understanding of love chooses to serve another person for their own good.  This commitment is not easy.  There will be storms of negative emotion and disagreement to navigate.  There may be times when we choose to love people who do not love us in return.  Love sometimes makes hard decisions for the good of everyone involved.
A church that loves serves its members.  It pursues them when they are wandering.  It embraces them when they are suffering.  It disciplines them when they need to improve.  In a church that is loving, you do not need to feel lonely.
Disney encourages us to wish upon a star.  For many hope is just wishful thinking.  However, the hope that truly grounds us is hope in a certainty.  In wartime, we might live in hope of the war's end.  The war will not last forever.  Those in college live in the hope of their eventual graduation.  The hope of the Bible is more in line with the word 'expectation' than it is with the word 'wish.'
An old hymn states 'my hope is built on nothing less than Jesus' blood and righteousness.'  Christians live in expectation  of a positive end to the story.  In a limited sense Christians know whatever happens in this world they will endure.  Christians also have a hope that the end of mankind's story will end in all things being made new.
Churches, therefore should be places of optimism, not despair.  Churches that despair at the loss of Christian influence in society should have more hope.  Churches that are melancholy at the loss of the good old days should look to their future.  Churches who see the reason for their hope are empowered to bring hope to their members and the neighborhoods where they live.
It is said we live in a post-truth culture.  When we become that culture, we embrace madness and anarchy.  Anarchy has been re-framed as something positive in popular movies by the Wachowski brothers, but really we will descend into a dystopian lawlessness.  In an anarchic society each person can have their own truth.
In academics we have ever been in the quest for true objectivity.  In the culture we are promoting ever more subjective perspectives.  We are really careful not to invalidate anyone's point of view and definitely not their feelings.  As a human being I understand the need to develop understanding in both directions.  The human experience is complex and multifaceted.  The world is so immense, to try and be objective is a daunting task.
The boldness of the Christian faith is that it claims to be truth from God's perspective.  This is both humbling and empowering.  It requires us to put aside our own perspective as having the power to explain everything.  It also puts in the hands of the church 'true truth.'  Although the church must be kind and sensitive to other perspectives, ultimately those who proclaim the gospel can have confidence in the Word of God – truth that is universal in its application.
If you are looking for a healthy church which exhibits these properties, come to Grace Community Bible Church, 15 Commerce Dr #106, Grayslake.  We meet at 10 o'clock on a Sunday.
***
In his letter to the Colossians Paul opens with giving thanks to God.  He thanks God for the qualities listed above.  He also wishes for them the peace of God and God's grace.
Colossians 1:1-8
Paul, an apostle of Christ Jesus by the will of God, and Timothy our brother,
To God's holy people in Colossae, the faithful brothers and sisters in Christ:
Grace and peace to you from God our Father.
We always thank God, the Father of our Lord Jesus Christ, when we pray for you, because we have heard of your faith in Christ Jesus and of the love you have for all God's people— the faith and love that spring from the hope stored up for you in heaven and about which you have already heard in the true message of the gospel that has come to you. In the same way, the gospel is bearing fruit and growing throughout the whole world—just as it has been doing among you since the day you heard it and truly understood God's grace. You learned it from Epaphras, our dear fellow servant, who is a faithful minister of Christ on our behalf, and who also told us of your love in the Spirit.