17 But if you call yourself a Jew and rely on the law and boast in God 18 and know his will and approve what is excellent, because you are instructed from the law; 19 and if you are sure that you yourself are a guide to the blind, a light to those who are in darkness, 20 an instructor of the foolish, a teacher of children, having in the law the embodiment of knowledge and truth— 21 you then who teach others, do you not teach yourself? While you preach against stealing, do you steal? 22 You who say that one must not commit adultery, do you commit adultery? You who abhor idols, do you rob temples? 23 You who boast in the law dishonour God by breaking the law. 24 For, as it is written, "The name of God is blasphemed among the Gentiles because of you."
25 For circumcision indeed is of value if you obey the law, but if you break the law, your circumcision becomes uncircumcision. 26 So, if a man who is uncircumcised keeps the precepts of the law, will not his uncircumcision be regarded as circumcision? 27 Then he who is physically uncircumcised but keeps the law will condemn you who have the written code and circumcision but break the law. 28 For no one is a Jew who is merely one outwardly, nor is circumcision outward and physical. 29 But a Jew is one inwardly, and circumcision is a matter of the heart, by the Spirit, not by the letter. His praise is not from man but from God.
We Will Never Succeed in Saving Ourselves
Jewish people in Paul's time saw themselves as law-abiding citizens.  Not just abiding by Roman law, but possessing and being obedient to God's law.  They saw themselves as held to a higher standard and successfully living by a higher standard.  Because God had chosen them, he gave them the law.  They showed they were chosen by observance of the law.  Some would even go so far as to serve the law to prove they were chosen.
However, Paul shows that God is not fully honoured by their obedience.  Their obedience falls short of the perfect standard of holiness that would mean they were set apart for God by their own efforts.  A person needs to stop relying on law-keeping as a means of being right with God.  A person needs a transformed heart.  This is not primarily transformed feelings, but it is a transformed orientation.  One needs to be focused on God and set apart by God.
Jewish people still need to hear this gospel.  A life of rules sucks the joy from living.  God is providing something higher.  However, many 'Christians' need to know this, too.  A life of rules and churches that police each other can be very damaging too.  To level the playing field, Paul points out that all people are under condemnation to begin with.  By the end of chapter three, the question will be, "Can anyone be saved from the just punishment of God, since everyone disobeys?"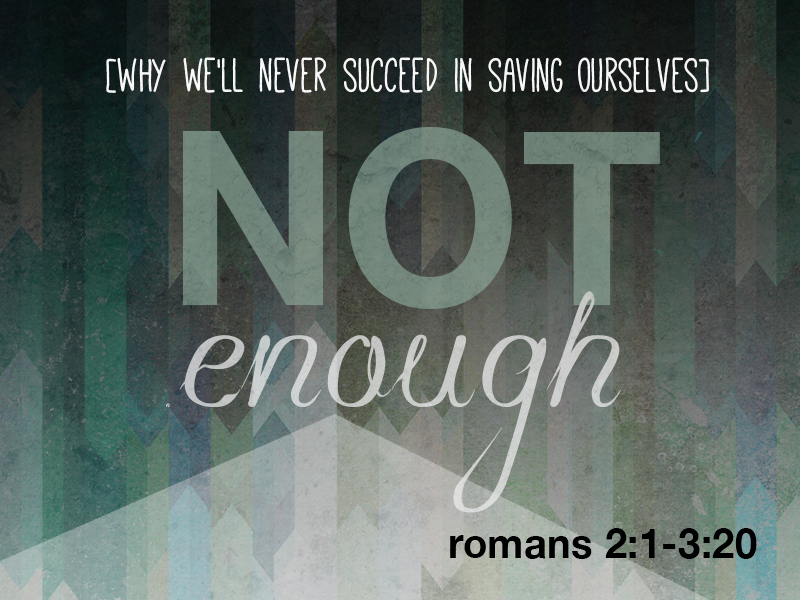 Prayer
You are holy and we are dust – disobedient dust at that.  Help us to lose ourselves in you.  Take away the fear of 'getting it right'.  Help us to be comfortable with being less than perfect and then work out your perfection in us.
Questions
To whom is Paul writing in this section?
What point is he trying to make?
Can this passage be applied to anyone other than Jewish people?
Who do you know who is Jewish?
How do Jewish people today seek to be right with God?